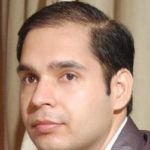 Ankur Shukla
Founder & CEO at Kudos Interactive Ltd.
View courses by Ankur
Biography
Ankur is a serial entrepreneur with a clear focus on solutions and high growth. He has led Lurn India (Lurn Solutions Pvt Ltd) from an idea in early 2009 to a strong 50+ people company in less than one year, building the technology, research and support arm for Lurn Inc, a leading elearning company based out of Maryland, USA. Prior to this, Ankur was a co-founder and Director at Kudos Infomedia Pvt. Ltd., a software development and services company that provides solutions in the field of web design, hosting, web 2.0 applications development, e-commerce, biometrics, corporate identity design, multimedia presentations and movie post-production. Kudos was acquired by Lurn India in Dec 2010. Kudos Infomedia was started by Ankur as a proprietorship firm during his final year of engineering and he still runs the portals KoolKampus.com, Koolkareers.com and KyaPoocha.com developed during those days. Collectively these sites have over 2.5 lac users. Ankur currently heads Kudos Interactive as CEO and consults various businesses to develop their online platforms/ecommerce solutions. He also advices startups over weekends while participating as an early stage investor in a few of them. Specialties: new ideas, execution, mergers & acquisitions, sales and marketing, lead conversion, business management, technology, designing/UI/UX, software development, operations and finance.